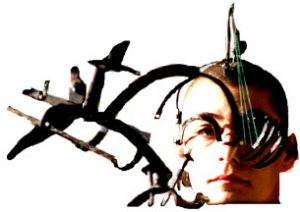 Finding ways to overcome limitations of funding, resources, restrictive conditions and political repression does seem to have the side-effect of bringing out the best in filmmakers, with some of the most imaginative, inventive and creative work dealing with relevant social, political and humanitarian issues in recent years coming from China, Iran and Africa. The same can be said for East European countries in the former Soviet Bloc coming out of the years of deprivation and repression under Communist rule, most notably evident in the resurgence of committed filmmaking by Romanian directors creatively finding a way to look back at the legacy of the years under the Ceausescu regime.
It's the legacy of the years under Tito that weighs heavily on Titov Veles, a small Macedonian town which not only bears the name of the Yugoslavian Communist dictator, but is still dependent on and subject to the influence of the factory built there under the regime, a factory that still spews its toxic waste out over the town, the pollution killing the people living there. In her second feature film, I Am From Titov Veles, director Teona Strugar Mitevska, through this image of the legacy of the past and its influence over the present and the future, combines personal experience, memory and impressions with an artistic sensibility that makes allusions to mythology, literature, poetry and painting to create a unique and deeply original work.
I Am From Titov Veles finds its originality of perspective through taking the viewpoint of the youngest of three sisters living in the small Macedonian town. Afrodita (Labina Mitevska) is a young 27 year old woman who has remained mute since the death of her father, and is prone to dreams and reveries that help her to process the wretchedness of the world she lives in with her three sisters. Afrodita's eldest sister Slavica (Ana Kostovska) works at the town's toxic factory, where she hopes to marry the wealthy owner, but struggling with an addiction to methadone, she relies on her sisters to set up the necessary arrangements, which calls for some painful sacrifices from both Afrodita and her older twin sister Sapho (Nikolina Kujaca).
Narratively, there is little more to the film than this. Like Chekhov's Three Sisters, each of the women feel like they are living in exile at home, longing to return to an illusory homeland and willing to do whatever is necessary to escape from Titov Veles – in this case a Greek homeland that their family were expelled from, like many others during the WWII. Slavica hopes to escape her misery through marriage, Sapho through procurement of a visa, and Afrodita through her own imagination. Showing this through the eyes of Afrodita however, the director's depiction of the grim reality of their lives and their surroundings takes on the lyrical quality of three fallen angels expelled from paradise unable to bear the torment of their mortality. The film consequently features strong scenes of misery, torment, horror, humiliation and degradation, suffusing them with the beauty of the natural light and fluid cinematography in a manner that never lessens the weight of the situation, but rather poetically heightens it, touching on indescribable underlying sentiments and emotions that are often difficult to grasp in any rational way.
In cinematic terms, such emotional lyricism evokes Kieslowski more than the spiritual poetry of Tarkovsky. A Franco-Belgian co-production with Macedonia/Slovenia, the hand of editor Jacques Witta, who worked on Kieslowski's Three Colours Trilogy and La Double Vie de Véronique, can perhaps be identified as contributing to this impression, but Teona Mitevska has her own visual style and language, finding a unique and personal way to describe the condition of her characters and her homeland. The term Chekhovian is often misused to describe an intense chamber drama, but I Am From Titov Veles matches the author's human observations in the truest sense of the term, and not just in its story of three sisters, but in the psychological and emotional veracity with which it touches on the wonder and the wretchedness of human existence without ever resorting to cliché, narrative contrivance or perceived truths. I Am From Titov Veles consequently, if sometimes very painful to watch and often elusive in its meaning, demonstrates a true artistic sensibility, coming as close to a masterpiece as any film I have seen in the last decade.
By NICK HOLDSWORTH
Two other titles from Eastern Europe that will get an airing during the 58th edition of the Berlinale are Macedonian director Teona Strugar Mitevska's third film "I am from Titov Veles"and Polish master Andrzej Wajda's "Katyn" (Official Selection Out of Competition.)
"Titov Veles" is a Chekhovian tale of three sisters struggling to make sense of their lives and fates in a heavily polluted mining town set against a breathtaking natural landscape of towering mountains.
A co-production with France, Slovenia and Belgium — home to cinematographer Virginie Saint-Martin, whose Super 34 widescreen lensing helps carry the director's highly arthouse vision — "Titov Veles" premiered last August at the Sarajevo Intl. Film Festival before going on to a Toronto Discovery program screening. At Berlin it is in the Panorama program; French outfit Insomnia is handling sales and has already notched deals with the U.S., English-speaking Canada, Serbia, Bosnia, Montenegro and the Netherlands.
Gerald Wright's Movie Coverage
Macedonia's entry to the Academy Award's Best Foreign Language Film category is a story of three sisters from a town in the former Yukoslav Republic known today as Titov Veles, Macedonia. I Am From Titov Veles explores the collateral damage of fallen governments. In this film, sisters are left to face environmentally unsafe issues of polluted air by mining and poverty. These are the issues surrounding their survival in this Balkin cinematic marvel.
As the film fades in, brilliant director Mitevska shows a dismal situation of a small group of town where people are protesting in economically depressed Titov Veles, Macedonia (since the removal of dictator Titov known as Veles) against the mining company that gives off toxic exhaust from its plant. At this time, the lead character of the film Afrodita, played by Labina Matevska, gives a stunning performance of a non-speaking young woman who taunts the protestors. She is the youngest sister of older Slavica, a single full size heroin-addicted mining plant supervisor, and attractive middle sibling Sapho who believes in sex for sale or a visa out of the country.
Immediately, upon viewing the film, the audience is taken into the world of a lonely and depressing environment. I spoke with the filmmaker Teona Mitevska about her film and she made it a point to explain that this film is about women who are lost in a world that is lost.
In one striking scene in the film, Afrodita has emotional nude scene where she is fantasizing over pregnancy and child birth. Strangely enough, she is a 20-something virgin who still sees life in a lost world, even though she has experienced the death of her father and the abandonment of her mother years prior. Her main thought is she just wants to belong to a complete and functional family.
Tragedy and gloom is prevelant throughout the film. The sisters have lost the comfortable lifestyle they had when they were children and had a complete family. Oldest sister Slavica is brilliantly portrayed by Ana Kostovska. Her character is caught between her addiction to drugs and the desire to find a man to take care of her (preferably through marriage). Her performance captures the essence of a person who is powerless. She looks to the past and wishes for a better future. However, she only seems to sabotage these hopes. Meanwhile, the middle sister Sapho (Nikolina Kujaca) is the one who uses her charms to get a visa out of the country and start a new life before her bad lungs end her life in Titov Veles. Sapho's character is more than just a supporting cast member. She is also part of a triangle in a major scenario of problems that build on each other. In some cases, these problems enable each other. Conflicts portrayed in the film between the sisters and their lovers Dzevdel Jasari and Peter Musevski (Aco and Viktor) become more vivid as convictions shape motivations and actions of those around them.
The film sets up an eerie sense of suspense and drama. It explores the fallout from the Balkin society and its history, while also focusing on how these three women must survive under dire conditions and yet on the other hand continue hoping for a better future. The movie gave me a genuine knowledge of what types of political scrutiny the citizens of Eastern Europe are under. Each character in the ensemble took me through their stages of desperation and anxiety which manipulate their life.
This psychological drama from Macedonia is a great Oscar submission for its 2008 Best Foreign Language Film.
FILM RATING (A)
j.b. spins
Macedonian Film Festival: I am from Titov Veles
Many Communist-era industrial behemoths are still around, continuing to plague the environment in former Warsaw Pact countries. Macedonian's Titov-Veles, now known simply as Veles, is one such city dominated by a carcinogenic white elephant. Its dreary backdrop dominates Teona Strugar Mitevska's I am from Titov Veles (trailer here), which opened the Macedonian Film Festival last night.
The blight of Veles accentuates the bleak desperation of three sisters' lives. The eldest Slavica is a recovering heroin addict looking for economic security. Sapho, the middle sister, is obsessed with immigrating out of Macedonia. Deeply affected by their mother's desertion and father's subsequent death, the youngest, Afrodita, desperately clings to her older sisters. Since their mother left, she has not spoken a word out loud, and might even have difficulty fully distinguishing fantasy from reality.
Mitevska portrays a rootless Macedonian, where jobs are scarce and immigration information is discussed in much the same way New Yorkers trade real estate anecdotes. Given the tremendous continuing human and environmental costs of what the press notes call "forceful socialist industrialization," it is understandable Afrodita's sisters are looking for a way out. However, when they find apparent escape from the doldrums of Veles, they leave behind Afrodita, in much the manner their mother did to the family years before. Ill-prepared for life on her own, Afrodita's perceptions and judgments becomes ever more questionable. Likewise, Mitevska's narrative becomes increasingly subjective, seemingly giving Afrodita's fantasies equal footing with ostensive reality.
In other words, Titov is most definitely a festival picture. Unfailingly patient, Mitevska lets her distinctive visuals unfold at a very deliberate pace. Often we watch Afrodita from odd angles, observing events at ankle level or over her shoulder. At other times, we see her fully exposed during moments of such vulnerability, the film feels intrusive. Mitevska's sister and producer, Labina Mitevska, carries the entire emotional weight of the film as the lost Afrodita. She is quite convincing, holding up well under the scrutiny of director Mitevska's unforgiving lens.
Somehow Mitevska has crafted a film that is both impressionistic and naturalistic. While casting a critical eye on contemporary Macedonian culture, particularly the gender attitudes of the brutish men the sisters encounter, Titov is a very personal story and a demanding film. Although it might not sound like a Chamber of Commerce promotional film, Macedonia has selected it as its official best foreign language film submission for the upcoming Academy Awards, in hopes of repeating Macedonia's success in 1994 with the nomination of Milcho Manchevski's Before the Rain, which will close the festival with a special screening Sunday. The Macedonian Film Festival continues through the weekend, and Titov will screen again in New York this coming January at MoMA.