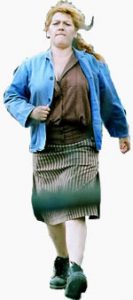 I believe that there is a great responsibility that comes with creating 
cinema. I believe that we are witnesses of our times, witnesses of the world today. I live in the county where things have changed very dramatically for the last ten years. So dramatically devastating were these changes that today I can only see sadness, uncertainty, and insecurity. This project is challenging for me because of it's uncompromising, sincere treatment of some of the most serious problems of the Macedonian society today.
Jas sum od Titov Veles is a story of three sisters who try to survive, though they seem ill equipped for the cruel society. The socialist revolution has failed. The social welfare is forbidden by the imposed neo-liberal transition formulas. The doors have been opened wide for the nouveau rich, the ruthless profiteers hungry for recognition who believe that everything has a price and they can afford it. The complicated historical past of the Balkans affects the lives of our main characters adding another layer of complexity to their everyday life.
Jas sum od Titov Veles is a sad story of dissolving and decaying family.The rat race allows no love, no compassion, brings only confusion and destruction. Jas sum od Titov Veles captures these absurdities with painful honesty.